While at first I was uncertain I could pull off a bi-weekly thing because of school and random distractions, considering I can do so any day of the week I have planned to post it, I decided to make it a thing: Bi-weekly NSFW is what its name implies: a new NSFW drawing every 2 weeks. The day will be random, so stay tuned about it.
Most of the artworks I'll draw are going to involve a few of the characters from my Fugitive series... and my Rogue Springtron, to what comes this little situation I had to deal with earlier this month;
So, some person that didn't read my warning about not using an artwork I no longer desire for any purposes posted such to Rule 34, and while it was there for four months, only until a friend of mine told me about it I had to write an email to the staff. It's not just the fact I said the work couldn't be used for any purposes, but Rogue is a fan character despite being a mass-produced Springtron model.
I do not want my name to be associated with the Rule 34 site, and will much less tolerate people that mistake Rogue for the real Springtron. You have been warned.
In other news...
You may've noticed my inactivity. Sorry for that, I haven't had many ideas for detailed or not-so-quick drawings to share. I've kept writing articles on the CRiTORA WiKi, though, for if you want to check it out: https://critora.fandom.com/
And as you may've read in the news post in which I announced I'd drop out from Goretober due to the excessive application of pressure... yep, I'm indeed doing Huevember.
It's not really of going to be 'much of a color', but I'll use a character I bet represents the color the most.
A friend of mine made this Huevember calendar which I filled out with the characters I own that I'm going to draw during those days: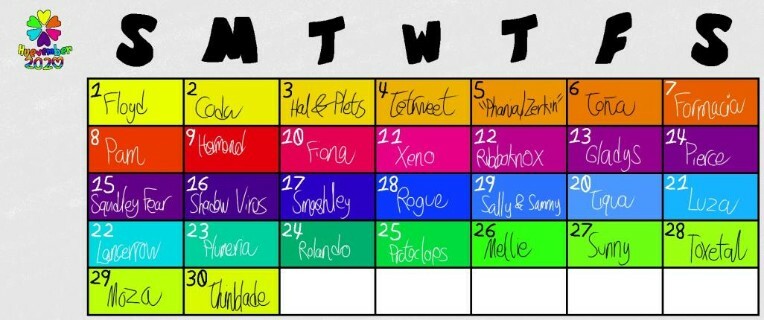 And I bet that's everything I'm going to say for now.
~LastyGhost